The new software for the Mac OS and Windows.
01.03.2020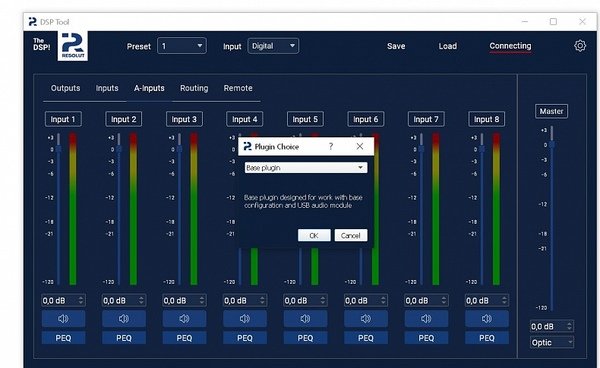 We present you new update of the Resolut DSP Tool for the Mac OS and Windows. Your system gets more customization options, and you can get one step closer to the sound of your dreams!
Change-Log version 1.3.11
2 types of All-pass filters for accurate phase correction in multiband systems
In crossover section, you can find additional crossover allowing you to enter additional filtering of high or low frequencies with a steepness of 12 dB / octave for cascade system. These crossovers are possible to be tuned independently from main crossovers.
New plugin menu added. Now installing any optional module it is not necessary to download plugin manually. It is enough to pass to this menu and select the plugin to be installed from the list. The processor update will start automatically.
Additional visualization option. Now you can see equalizer and crossovers on one graph.
New tab for work with analog module
New plugin to work with analog module. Sound quality increased.
Added hotkeys for mute/unmute channels. 1-8 keys pressed mute or unmute channel with same number.
The new version of the software Resolut DSP Tool 1.3.11 is already available for download on our website in the "Downloads" section.
< Back to the list